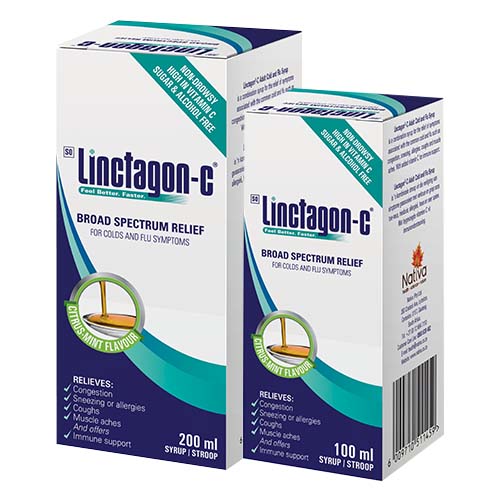 Coughs
Sore Throat
Runny Nose
Body Aches
Sneezing &
Allergy Support
What is it for?
The Linctagon®-C Cold & Flu Syrup offers broad spectrum relief of cold and flu symptoms.
For relief of:
 

Coughing

 

Sore throats

 

Runny nose

 

Body aches and pain

 

Sneezing and allergy support
The Linctagon®-C Cold & Flu Syrup will assist with added immune support as it contains high levels of Vitamin C, they are sugar & alcohol free and a non-drowsy option so perfect to use any time of the day as it will not cause any drowsiness.
Adult syrup available in Citrus Mint flavour in a 100 ml and 200 ml product offering.
How do you use it?
Adults & Children 12 years and older: Take 15ml three times daily, after meals.
Who can use it?
Adults 12 years and older
What's in it?
LINCTAGON®-C Adult Cold and Flu Syrup.
ACTIVE INGREDIENTS
PER 15 ML SYRUP
PER 45 ML SYRUP
%NRV# PER 45 ML SYRUP (MAX AILY DOSAGE)
Pelargonium sidoides
Root Extract
28 mg
84 mg
*
Vitamin A
240 μg
(800 IU)
720 μg
(2400 IU)
80
Vitamin C
330 mg
990 mg
990
MSM (Methylsulfonylmethane)
500 mg
1500 mg
*
Zinc (zinc gluconate)
5 mg
15 mg
136.36
Quercetin (Quercetin dehydrate)
40 mg
120 mg
*
# Nutrient reference values for adults and children older than 4 years.
* NRV not established.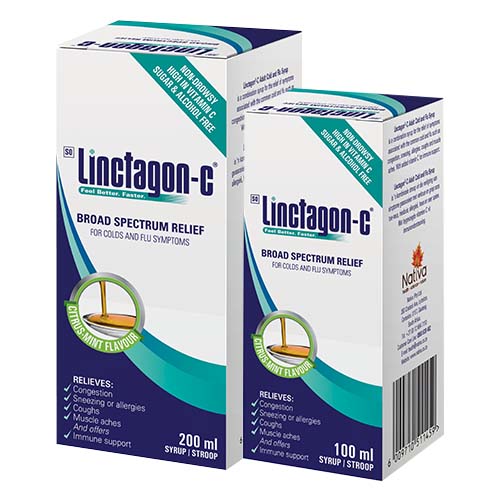 LINCTAGON®-C ADULT COLD AND FLU SYRUP: D.5.8 Preparations for the common cold including nasal decongestants: Combination Western Herbal Medicine. This unregistered medicine has not been evaluated by the SAHPRA for its quality, safety or intended use. Nativa Pty Ltd. www.nativa.co.za. 260 Cradock Avenue, Lyttelton, Centurion, 0157, Gauteng, South Africa. Customer Tel Number: +27 860 628 482. Customer Care e-mail: health@nativa.co.za.