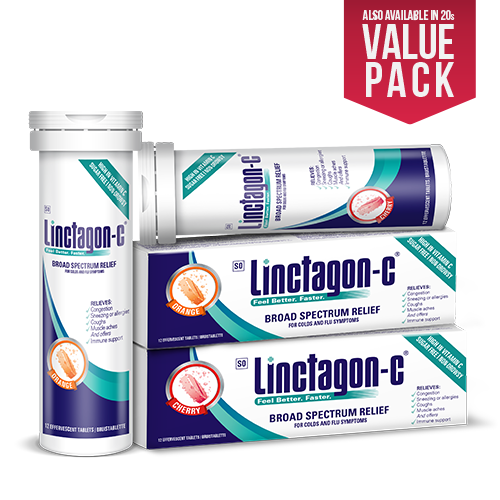 Congestion
Coughs
Sore Throat
Runny Nose
Body Aches
What is it for?
The Linctagon® broad spectrum range offers all-in-one support against colds & flu.
For relief of:
 

Congestion

 

Coughing

 

Sneezing or allergies

 

Muscle aches
With added Vitamin C for immune support. Linctagon®-C Effervescent is sugar free & non-drowsy and is available in orange and cherry flavours.
How do you use it?
Take one effervescent tablet, three times daily in a glass of water, after a meal
Who can use it?
Adults 12 years and older
What's in it?
LINCTAGON®-C EFFERVESCENT.
Active Ingredients
Per 15 ml syrup
Per 45 ml syrup
(max daily dosage)
% NRV' per 45 ml
(max daily dosage)
Pelargonium Sidoides DC Dry root extract (DER 4-25:1), extraction solvent ethanol 11% m/m. *Equivalent to 78,4 – 490 mg of dried root.
28 mg"
84 mg
*
Vitamin A (vitamin A retinvl palmitate 250000 |U/ a)
800 IU
(240 μg)
2400 IU
(1320 μg)
80
Vitamin C (ascorbic acid
330 mg
990 mg
990
MSM (methylsulfonvlmethane)
500 mg
1500 mg
*
Zinc (zinc gluconate)
5 mg
15 mg
136,36
Quercetin (quercetin dehydrate)
40 mg
120 mg
*
Zinc (zinc lactate hydrate)
5 mg
15 mg
100
# Nutrient reference values for adults and children older than 4 years. " NRV not established. Linctagon®-C Adult Cold and Flu Syrup contains artificial sweetener: Glycerine 2,62 mg/ 15 ml, Sorbitol 2 mg/ 15 ml, Sucralose 6 mg/ 15 ml, Xylitol 0,3 g/ 15 ml Lintagon®-C Adult Cold and Flu Syrup contains the preservative potassium sorbate 7,5 mg/ 15 ml.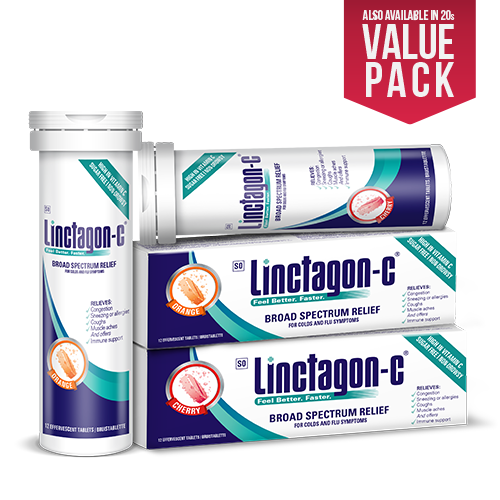 LINCTAGON-C EFFERVESCENT: Per effervescent tablet: Pelargonium sidoides Root extract 28 mg; Vit A: 800 IU; Vit C 330 mg; MSM 500 mg; Quercetin 80 mg; Zinc: 5 mg. D.5.8 Preparations for the common cold including nasal decongestants: Combination Western Herbal Medicine. This unregistered medicine has not been evaluated by the SAHPRA for its quality, safety or intended use. Nativa Pty Ltd. www.nativa.co.za. Customer Tel Number: +27 860 628 482. Customer Care e-mail: health@nativa.co.za.