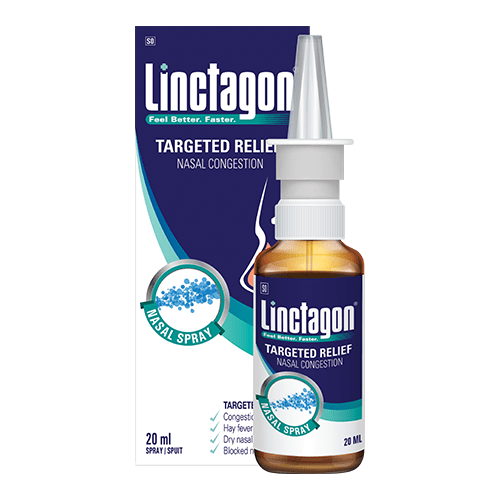 Congestion
Hay fever
& allergies
Dry nasal
cavities
What is it for?
Linctagon® Nasal Spray is a decongestant nasal spray that contains essential oils for targeted relief of:
For relief of:
 

Congestion

 

Hay fever and allergies

 

Dry nasal cavities and will assist to open up a blocked nose
Can be used from the age of 3 years old.
How do you use it?
Adults and children older than 12 years: Two sprays in each nostril, maximum five times per day.
Children 3 to 12 years: One spray in each nostril, maximum five times per day.
Who can use it?
Adults and children from the age of 3 years
What's in it?
 LINCTAGON® NASAL SPRAY.
| ACTIVE INGREDIENTS | PER 1ML NASAL SPRAY | PER 2,4ML (maximum daily dose) |
| --- | --- | --- |
| Matricaria chamomilla L. (German chamomile) [flower, 10:1 extract in grapeseed oil providing 50 mg dried herb equivalent] | 5 mg | 12,2 mg |
| Eucalyptus globulus Labill. (Southern blue gum tree oil) [leaf, extract standardised to 75 % eucalyptol] | 0,5mg | 1,2mg |
| Cinnamomum camphora L. (Camphor tree) [bark, extract | 0,04 mg | 0,1 mg |
The other ingredients are: citric acid, hydroxyethylcellulose, polysorbate 20, potassium chloride, purified water, sodium chloride, sodium citrate.
Linctagon,sup>® Nasal Spray contains a preservative: chlorobutanol 0,5 % m/m.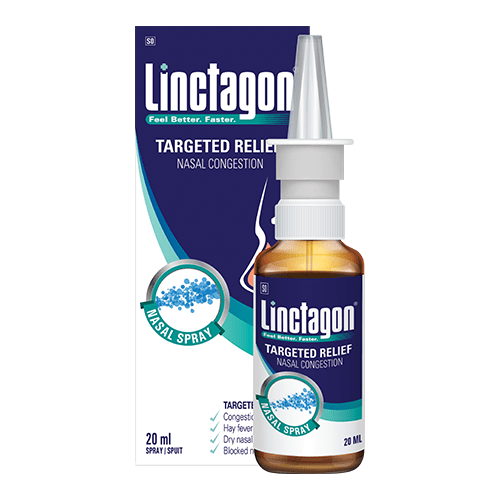 LINCTAGON® NASAL SPRAY. Per 1 ml Liquid: Chamomile oil extract 15,12 ug; Eucalyptus oil 1,51 ug; Cinnamomum camphora bark oil 0,04 ug. D 5.8 Preparations for the common cold including nasal decongestants. Complementary Medicines: Western Herbal Combination Product. This unregistered medicine has not been evaluated by the SAHPRA for its quality, safety or intended use. Nativa (Pty) Ltd. www.nativa.co.za. 260 Cradock Avenue, Lyttelton, Centurion, 0157, Gauteng, South Africa. Customer Tel Number: +27 860 628 482. Customer Care e-mail: health@nativa.co.za.